Mevagissey Museum
As you may know already, we have a very special member of Cornwall Seal Group Research Trust – an adult male grey seal skeleton called Septimus!
Since joining CSGRT, Septimus has had a rather busy schedule – so busy in fact, that his partner in crime Rob Wells has to keep a separate diary for him! And this June he has been visiting his hometown (or at least where he first met Rob) at Mevagissey.
At the end of the harbour on the East wharf sits Mevagissey Museum, a very appropriate place to tell Mevagissey's history. It is full to the brim of interesting artefacts, information and displays, and is free to the public (with donations gratefully accepted). Due to this, it gets a large amount of visitors, especially in the busy summer months!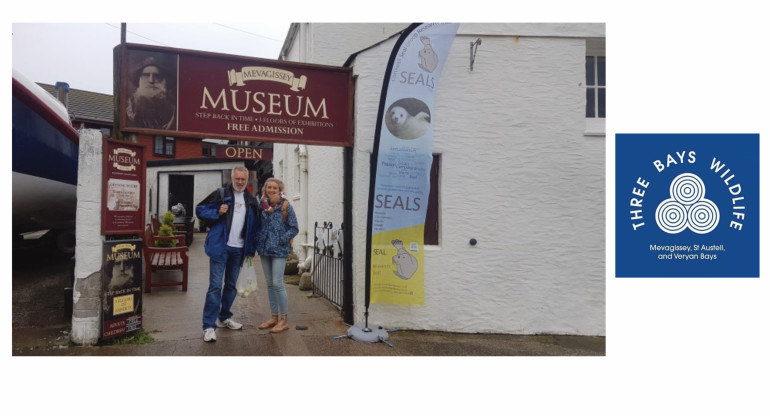 If you are interesed in visiting Mevagissey Museum find out more here:
https://www.mevagisseymuseum.com
Rob,  Joan and Jeremy, who are all residents of Mevagissey, and members of Three Bays Wildlife Group kindly made the arrangements for Septimus' special visit, and arranged the school visits too!
Sue, Rob and Marion took Septimus to Mevagissey on the 2nd June – where he was to stay for the next 2 weeks! Kind volunteers at the museum had arranged to help look after Septimus while he was there, and special thanks to Joan, who went above and beyond her duty as a museum volunteer, and is now a seal and Septimus expert, as well as an honorary member of CSGRT!
During Septimus' stay at the museum, we also had some school visits, which was exciting as it meant it was the first schools workshops we had done with Septimus!
It was a busy few weeks at the office beforehand – creating lots of different educational resources to use on these workshops! Our Creativity and Activity ranger Emily,  along with lots of help from the others here at CSGRT HQ, created these, making a lot of mess in the process!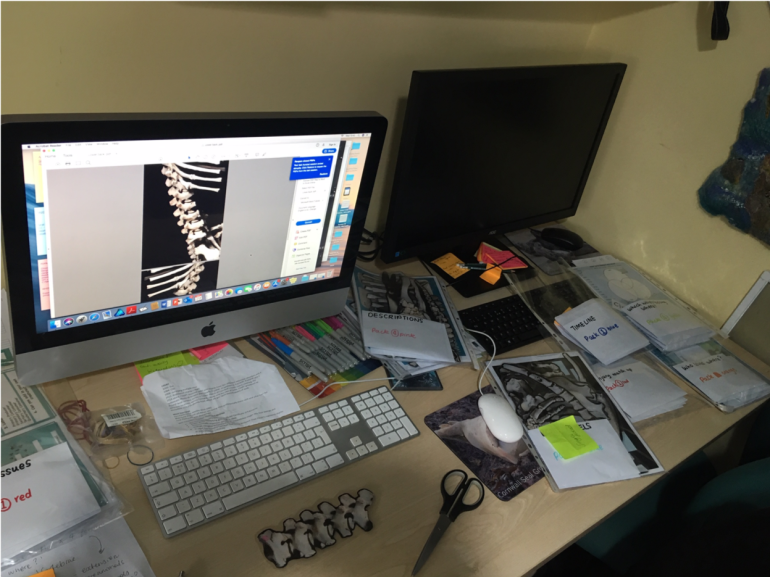 The activities included:
– Build a Septimus
– Label his bones
– Septimus' film
– Septimus injuries
– Septimus' booklet and timeline
– Similarities and differences between seals and other animals
– Marine adaptations
– and lots more!
Activities being trialed at HQ!
We had a few different school groups in across the two weeks, even including a nursery group! Activities were versatile to be adapted to different target audiences, so that they could be enjoyed by all.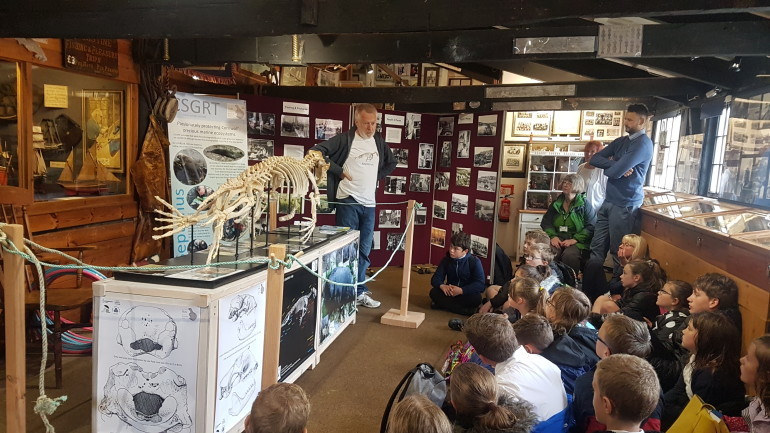 After a short introduction by Rob, the kids got stuck into the activities! We ran the workshop as four different activities that groups of 8 travelled around. It was full on but very good fun!
As the museum was still open to the public while the schools were visiting, people were able to mill around and enjoy watching the children engage with Septimus' story and activities (although sometimes the children would have to shuffle out of the way to let them tiptoe through!) It was very nice to hear feedback from these people that they loved to see local children in the museum, and on such good behaviour. Since the visits, there has also been some very encouraging reviews on trip advisor – a first for CSGRT!
Next on the agenda, is Septimus' visit to at Falmouth University for his special photoshoot with Rose,  Joe and Adrian.
Septimus had a wonderful two weeks at Mevagissey Museum, and it was great to do our first school workshop using him as a resource. Hopefully this is the first of many more to come!
Thanks you to all at Mevagissey Museum (particularly Rob and Joan) for making this happen, and your care of Septiumus when CSGRT couldn't be there!
Please feel free to contact us if you are interested in having Septimus to visit:      [email protected]