Box is alive!
Seriously wounded, a seal was slashed on her rear flippers by a boat propeller as she was hand fed in St Ives Harbour on 19/08/17. The adult female seal 'Box desk' (Box for short) was subsequently identified from witness statements and photographic evidence taken before, during and after the incident. Box had been encouraged to pose for a close-up selfie at the back of the boat by someone dangling a fish high above the water line. At the same moment, the boat operator reversed to dock harbourside. It was an accident waiting to happen.
British Divers Marine Life Rescue (BDMLR) and Cornwall Seal Group Research Trust (CSGRT) put out a public appeal for photos of seals in St Ives Harbour to investigate the aftermath of the accident and to find out the fate of Box. Thought to be heavily pregnant when injured, everyone feared the worst.
CSGRT's Sue Sayer said "We had a brilliant public response, so many people showed concern for Box. Over the next fortnight, we had numerous sets of photos sent in of seals in St Ives Harbour, but all of these proved to be Box's companions – Wings and Clouds. Clouds was routinely mistaken for Box as she too has propeller wounds on her back – but these were fully healed from an injury she sustained before she was first identified by us in 2009."
"We were beginning to fear the worst" continued Sue, "When on 15/09/17, another set of photos arrived in my inbox from a holiday maker Julie Meaden. Julie had photographed two seals in the harbour on 07/09/17 with her phone, so it took us a few days to get solid confirmation of the date stamp on the photos. It was all worth the wait though and we were thrilled. Julie had got definitive photos of Box along with her regular companion Clouds. Obviously identifiable from her distinctive fur patterns, we could confirm that Box was alive!"
Box must not be allowed to have suffered in vain. We are extremely lucky that her accident did not prove fatal for Box, although we are still unclear about the fate of her unborn pup. We can all learn from this and make the lives of the seals in St Ives harbour safer. So, the next time a seal looks longingly into your eyes, clearly begging for food…be prepared, STAY STRONG and SAY NO! We all need to pledge TOUGH LOVE and STOP FEEDING SEALS – here and everywhere; now and forever!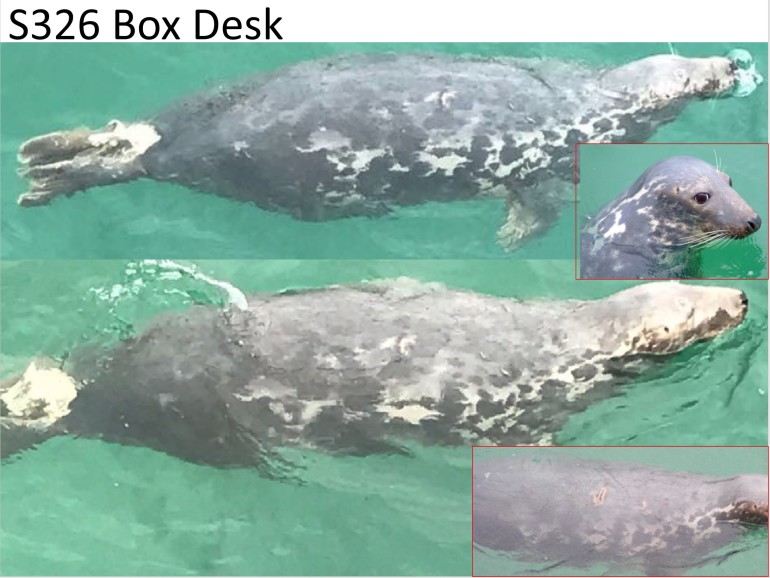 Box's first and only sighting since he accident, 19 days after her injury by Julie Meaden. Julie's photos of Box with two matching  red bordered catalogue images confirm her ID.
"Julie had noticed something odd about Box's rear flippers. These now appeared to have a large white patch above them and whilst not totally clear, it is assumed that these are Box's scars healing over."
"We can only think that like most of us when we feel unwell or have a large and nasty wound that needs to heal, Box found a nice quiet spot and laid low to convalesce. Strangely however, despite a continued influx of photos, Box has not been seen again, so we hope she has returned to her safe place to recover fully."
Please keep emailing your photos of St Ives seals to [email protected] so we can monitor Box's progress.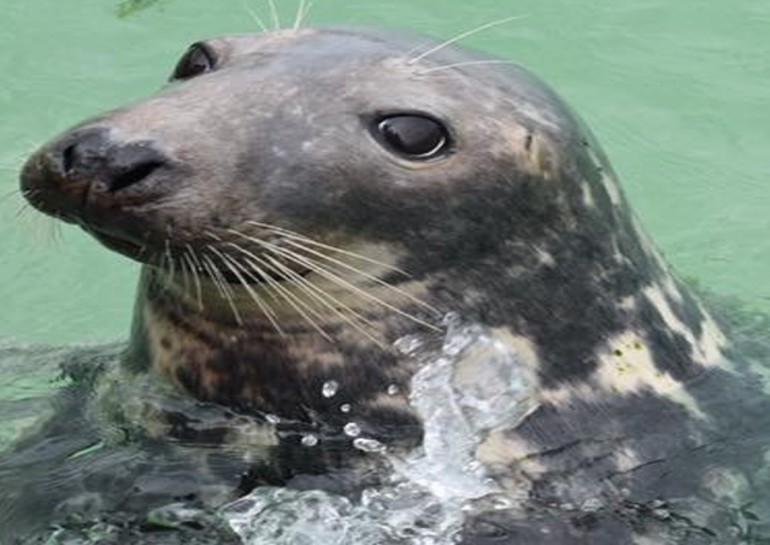 Resist Box's begging eyes and practise TOUGH LOVE…we must STOP FEEDING SEALS!
Huge thanks to everyone who has sent in photos of the seals in St Ives harbour. All photos by members of the public and CSGRT. (Banner photos at the top of this page are Box proving she can be a proper wild seal away from the harbour, living happily without being hand fed and looking pregnant prior to her recent accident and injury.)