Ways You Can Help
Seals need all our help, especially when we are out and about!
We all need to spread awareness about how to watch seals well whilst we are enjoying our incredible marine and coastal environment. Key messages include 'Giving Seals Space' and making sure they are NOT aware of our presence.
Click here to read more about Watching Seals Well and Giving Seals Space.
If you would like copies of the Seal Alliance signs and leaflets (see link above) to distribute around your patch, email [email protected].
Help us to raise awareness about the risks posed by flying rings near waterways.
Click here to learn about our flying rings campaign.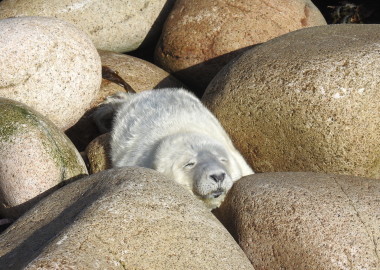 Join our team of routine volunteers who process photos sent in by our surveyors so that our ID teams can do their magic. This helps us build up seasonal patterns of habitat use and individual seal life stories. Email [email protected] for our online training.
Consider helping us financially – click here to see how this will help us:
♦ become a Seal-Supporter and fundraise for us – click here to find out more
♦ send a one off donation for an amount of your choice – click here to find out more
♦ set up a standing order  – email [email protected] for bank details
♦ join our Wild Seal Supporter Scheme by adopting a seal – click here to find out more
♦ adopt a seal as a gift for a loved one – click here to find out more
We would love to hear from you with your seal sightings!
Email [email protected] about the seals you see around the southwest. Ideally with information including the number of seals seen in the sea or on land with a date and location. A photo will give us even more information.
Click here to hear what our iconic seals get up to every month in our Seals SW Newsletter
Help us with our campaign work to find solutions to the global issue of lost fishing gear, support fisheries that adopt seal friendly practices including no shoot policies, raise awareness about marine life disturbance and limit the impact of plastic, chemical, pharmaceutical and noise pollution on all marine life.
Look cool and show you care by wearing one of our beautiful and ethical t shirt designs, printed to order by our friends at Teemill. They make great gifts! Click here to order now.
We stock a range of seal related merchandise. Click here to see our full range of merchandise to treat yourself or a loved one whilst supporting marine conservation.

All our money is spent to further our charitable aims of researching, communicating about and conserving seals. We are honoured to be supported by a huge number of volunteers who donate thousands of hours to the cause, but we try not to take these contributions and peoples' generosity and good will for granted. Not everything is free but we do aim to spend our money very carefully and wisely.