CSA award for CSGRT
At CSGRT, we have won our second prestigious award in two weeks. We are genuinely gobsmacked at this incredible achievement. The Cornwall Sustainability Awards recognise leaders proactively managing and growing the natural environment and CSGRT won the Individual category.

It was an honour for CSGRT trustees (Sue, Dan and Kate) and Ranger (Marion – generously funded by the Postcode Local Trust supported by the People's Postcode Lottery) just to be in a room filled with so many finalists striving to make Cornwall a better place for nature. Inspirational speeches were delivered by Sara Parkin (from the Sustainable Literacy Project) and Kurt Jackson (internationally renonwned environmental artist from the Jackson Foundation Gallery).

As the highly commended organisations were listed, tension mounted and then we had the biggest shock ever when we discovered we had been selected as the winner! Amidst much excited screaming and clapping, Sue leapt up to accept the award in true celebratory style! The award was presented by Rachael Bice (Cornwall Council Environmental Growth) and Carolyn Cadman (Cornwall Wildlife Trust) and category sponsors (Bosinver Farm Cottages).
The utterly incredible and unique trophy had been designed specifically for this occasion by Kurt Jackson. It was a Cornish Mackerel (sustainably caught and supplied by Fish for Thought) cast in recycled waste acrylic filled with nurdles from Cornish Beaches and a Kurt Jackson pilchard handmade from Cornish shipwreck tin. It was beautifully mounted on a locally sourced sustainable base (crafted by Koos furniture).

Sue's unusual (but appropriate for the occasion) blingy attire gave her an opportunity to highlight that all the clothes she was wearing contained plastics and to avoid microplastics entering the sea (fish, seals and us), they would need to be washed inside a 'Guppyfriend' bag.
Several CSGRT partners were also present and we were proud to be able to have so many of us there representing the Global Ghost Gear Initiative….CSGRT, Fathoms Free/Odyssey Innovation and Fourth Element.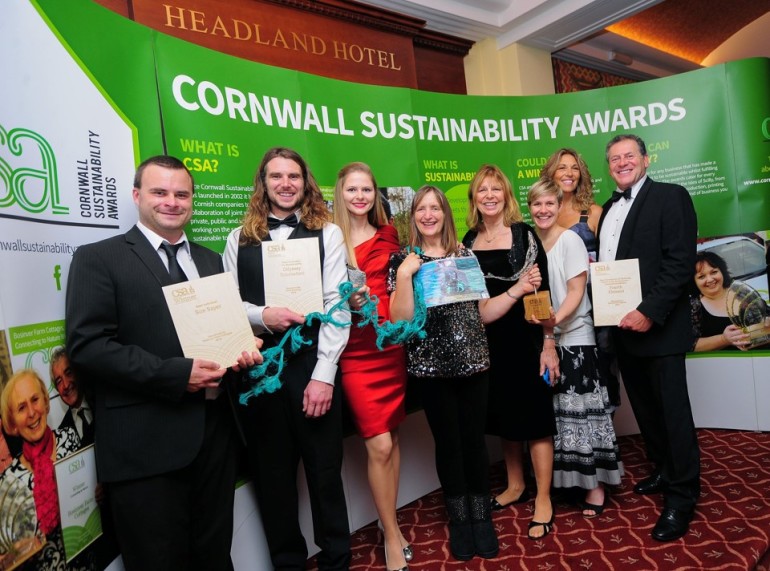 This award is a massive honour and credit to our wonderful team of amazing volunteers at CSGRT. Without the dedicated efforts of every single one of our volunteers we could not tell the amazing seals stories that we do! This is our thank you to every one of you!