Simon Reeve in Cornwall
It had been an incredible year for media coverage here at CSGRT with appearances on Countryfile and Springwatch by the time Freddie from Beagle Media got in touch. Freddie was directing and producing a new TV series. He would be documenting writer and presenter Simon Reeve as he journeyed across Cornwall to explore the incredible natural and human diversity which make up our wonderful county.
I am glad I had not watched any of Simon Reeves' incredible back catalogue of TV documentaries before Sarah Millward (CSGRT's Sanctuaries at Sea Ranger) and I met him aboard Atlantic Diver. Good job too, I would have been star struck!
Here is the final TV segment…
…and here is the story behind the day's filming.
Simon meets 'Trunk' on the 'thanks for not feeding us sign' and enjoying his time at sea
Freddie was keen to film Simon out on a CSGRT boat survey where he could learn about our photo ID work. After exploring a range of options, it was clear that the issue of seal disturbance would be particularly topical during filming and entanglement was also of interest.
Logistically, planning boat-based filming is complex. CSGRT have strict filming guidelines to ensure seal disturbance does not occur and that the location of the sensitive seal site being covered is not shared across high profile TV. Tides, waves and weather all need to be considered, before assessing risks, collecting kit and ensuring the film crew, survey team and skipper all meet up in the right place at the right time! Then of course the wild seals need to turn up on cue! Our detailed plans worked a until a couple of days prior to filming when we decided conditions demanded a seal site change! Frankly none of us need have worried.
Chris and Freddie filming Sue telling Simon Lucky bunting's tale          Freddie getting some go pro footage
All aspects of our seal survey were filmed by cameramen Chris and Freddie, whilst Sarah recorded the filming process. Choppy conditions make filming a considerable challenge and 6 hours were allocated to produce our 6 and a half minute slot. Freddie and Simon had done their homework. They were already familiar with the issues of disturbance and entanglement and examples of people getting too close to our wild seals were evident during filming and included during the piece. This gave us the perfect opportunity to explain why disturbance of pregnant females can fatally impact their pups several months later.
Adult female 'Radley' craning her neck round nervously as a kayak passes too close by
We were delighted that as the tide dropped seal numbers swelled from two to 16 hauled out during filming. So no seals were disturbed that day! I am proud that the CSGRT team of Sue, Sarah, Katie and Kate managed to identify a total of 10 seals out of all filmed on the day. Three of those have been tracked by CSGRT since 2009 – Seahorse, Pitchfork and Ivy. Others identified included Skinny H (from 2011); Fuchsia T and Heart sideways (from 2013) and ex rehabilitated seal Whist (from 2016).
Skinny H (left) and Seahorse (right) telling a male to 'get lost!'            Ivy (left) chilling out with younger female
The issue of entanglement fitted wonderfully well with other segments from the programme, including climate change flooding induced by more extreme storms which damage fishing gear that then needs removing by Cornish charity Fathoms Free. The obvious story for us to cover was that of Lucky Bunting, who CSGRT rescued with partners British Divers Marine Life Rescue after first sighting her on 11/07/2016.
Dan (BDMLR) and Chris rushing to Lucky bunting's rescue                 Sue's head cam records her plight
Simon was genuinely shocked when he saw Lucky Bunting's story unfold on the laptop in front of him. His empathy for her was obvious as he emphasised her plight during the rescue. His interest in the details illustrated the interview so well.
Lucky buntings original rescue footage
We have learned such a lot from her experience about wound development and healing, the behaviour of young females in season for the first time, how protective some males can be towards their chosen female alongside her post release movements, as we identify and monitor her progress around our coast. So much so, we are planning to make our own short film of the life that has been made possible for Lucky bunting thanks to her rescue after a CSGRT routine survey observation.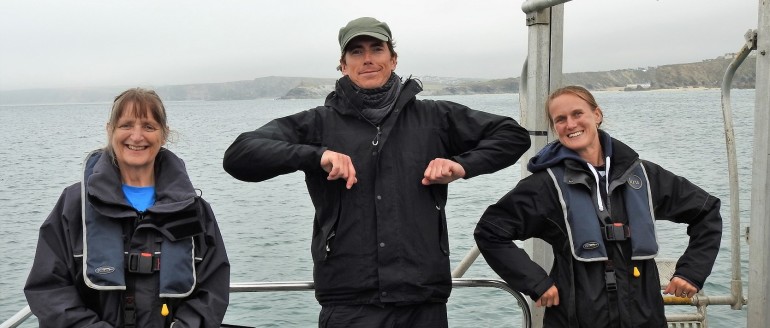 Sue (CSGRT Director) and Sarah (CSGRT Sanctuaries at Sea Ranger) with Simon. It was an honour to meet such a humble professional celebrity
Huge thanks to everyone who helped get this programme to air, particularly Freddie, Chris and the Beagle Media team; Chris Lowe skipper from Newquay Sea Safaris and Fishing, CSGRT Rangers and Volunteers who provided archive footage of seals from this site and all the seals who turned up on the day. We are super proud to have been participants in this truly epic series which has shown Cornwall in a realistic light emphasising our county's solution focused and self help attitude toward action.