Space for Seals
Brigstow Institute Seedcorn Funding project 'Space for Seals' background

In 2021, The Seal Research Trust (SRT) published a report commissioned by DEFRA called the 'People Protecting Precious Places Project'. This detailed that seals were experiencing a statistically significant increase in disturbance as a result of human interactions throughout the summer months and that tripper boats taking people to see seals were one the main causes. It was clear that a novel, innovative approach to messaging and communication might help engage a wider audience to help mitigate this issue.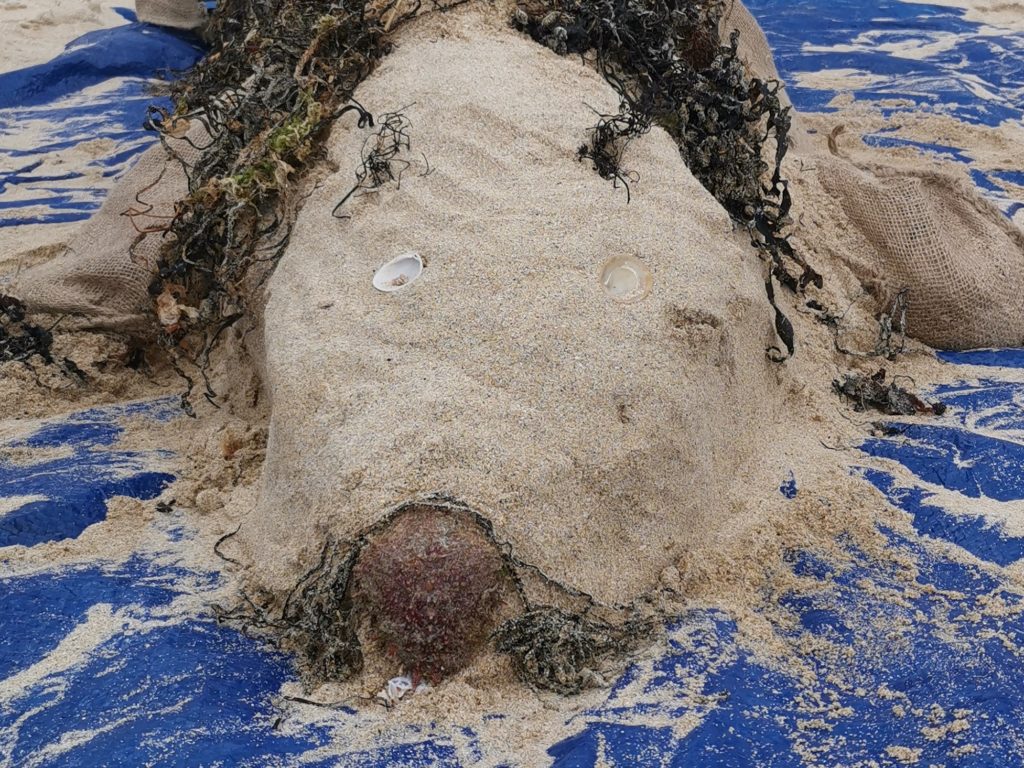 Space for Seals Team
At the end of 2021, our exciting collaboration with the Universities of Bristol and Southampton began with a successful application for Brigstow Institute Seedcorn Funding project 'Space for Seals'. Seal Research Trust Founder and Director Sue Sayer MBE worked alongside transdisciplinary partners Leah Trigg, Emma Roe and Paul Hurley to explore seal and human interactions from a new perspective.

Space for Seals Project Activities
Between March and June 2022, we planned, delivered and engaged a range of coastal stakeholders in two free workshops hosted by the Carbis Bay Hotel to explore and understand our varied and different perspectives of seals and the sea. The project team also took part in public tripper boat visits to the key sensitive seal sites to experience first-hand public interactions with, and responses to, seals.
A student researcher Beca Phillips joined the team to conduct a literature review about seal and human interactions and to interview members of the public at two contrasting sites on either side of the Bay – in the town of St Ives and on the wild Navax Headland with the permission of the National Trust.
The workshop saw participants engaging in a sensory way with their environment as they approached the sea, followed by a creative activity of building a life-sized seal on the beach before releasing back into the ocean and finally an exploration of the issues, thoughts and relationships we all have with our wider environment.
Space for Seals Outcomes: Thinking and Resources
The findings were fascinating for us at SRT, deepening and broadening our understanding of the general public's thoughts and perceptions of seals in the wild. For many, seals were secondary to their coastal and boat-based experience, although considered a bonus sighting. Attention ranged from a vague, fleeting interest of ticking the 'I've seen a seal' box to a deeply caring and concerned attitude of those who desired an authentic wildlife encounter. Whilst many people expressed excitement, awe and wonder, it was not surprising that many still had little empathy for seals in the wild. To the visiting researchers the tripper boat and clifftop viewing experiences of seals seemed akin to a 'zoo-like' encounter, which was a fascinating thought for us at SRT and a perception that we potentially need to focus on addressing.
Key outcomes from the project were two fold….SRT have been able to develop a manifesto for seals…a list of things seals need from us. This flipped perspective (from what we need to give seals) is transformational and forms a solid focus for all conservation work by SRT going forward. A second outcome was the idea that seals need us to be 'good neighbours'. Workshop participants delved deeper into the concept of good neighbours and in doing so the idea of a tangible asset emerged from the project as we explored what this concept meant.
A fabulous artist, Sam Church, was enlisted to create a series of six cartoon like images around the concept of 'nuisance neighbours' illustrating what some of our human relationships are like with seals currently, with a take home ask of people being a good neighbour to seals. SRT have rarely used humour as part of our messaging, so this was an exciting development to potentially engage new audiences as a direct result of the project. Sam kindly worked the graphics into two formats – a poster, alongside six individual, standalone social media graphics forming our 'Good neighbours' tool kit illustrating the following desired behaviours to help seals:
• It is a good idea to NOT stop and stare (55%)
• Keep quiet around seals (49%)
• Give seals more space (76%)
• Mums/pups can easily be scared by us (47%)
• It is best to stay off beaches used by seals (47%)
• Never feed wild seals (47%)

Since the end of the end of our Brigstow Institute Seedcorn Funding project 'Space for Seals' project, we have worked with a student from the University of the West of England to discover the reactions from a younger, student based audience, as well as from the public via two targeted questionnaires. Whilst this project is ongoing, we have collected 38 responses so far from students from nine different higher education institutes.
66% of respondents were motivated enough to consider scanning the QR code for more information after looking at the graphics. The percentages of respondents who got the messages we intended are listed in brackets above.
Participant feedback comments about the poster included:
• awesome design and clever concept
• colourful and eyecatching
• cool artwork
• attention grabbing, making you want to read it and maybe more likely to remember it as it is funny
• easy to read and immersive
• clear message
• quick and simple messaging
• gripping and easy to read
• friendly and comical, whilst informative
• pleasing to look at, fun and interesting
• help youngsters understand better without a lot of reading
• informative but accessible
• people are actually going to want to read all of it
• makes you think about it and take the message home
• interesting comparison to human emotions
• we don't like nuisance neighbours so why would seals?
• the different take on swapping the roles to 'how would you like it' is innovative and memorable.

Interestingly the first three posts we did using these graphics were seen by 3833 people on facebook and 4983 on Instagram, despite our having a larger following on facebook. This potentially suggests that the younger Instagram audience were more engaged with the Good Neighbours poster than our older facebook demographic. We even had requests to send posters out to people for them to display in their public spaces. So this project has longevity and continuity going forward.

Space for Seals Conclusion
For us the 'Space for Seals' project revolutionised our thinking and perspectives about stakeholder interactions with seals in the wild, that has fundamentally shifted our messaging and broadened our understanding of effective communication. We cannot thank the Brigstow Institute enough for funding this invaluable and transformative work. We will stay in contact with the project partners in the future, as we hugely valued working with them. This project has enabled new, but longstanding relationships to develop.
To get your own copy of the Space for Seals 'Good Neighbours' poster, please email [email protected]
Click here to support more of our marine conservation work with seals
Huge thanks to the Brigstow Institute, Leah Trigg from the University of Bristol, Paul Hurley and Emma Roe from the University of Southampton, Sam Church, The Carbis Bay Hotel, the National Trust and Beca Phillips for making this project possible.