Food for Thought
Let's all learn from Box's horrific injuries and life threatening experience!
PLEASE WATCH our film 'Food for Thought' explaining why it is important to do the 'TOUGH LOVE' thing and NEVER FEED wild seals!
For more on Box's story with photos, please click here AND click here or read our summary below.
We first met adult female seal 'Box' in St Ives Harbour in 2007 when she was about 5 years old. She is a very beautiful seal with a striking fur pattern. Sadly Box begs for food from boats throughout the summer. As soon as boat activity in the harbour gets less, Box leaves and spends the rest of the year on more remote and wild seal haul outs.
Last summer Box made the national news for all the wrong reasons. Sadly, in a split second of unfortunate circumstances, she came up to grab a fish that had landed at the back of a tripper boat at the same time as the skipper reversed to park quayside. The sudden, gut wrenching grating sound meant Box had been slashed and severely injured by the boat's propeller.
Box disappeared from the harbour and we feared the worst for her and her unborn pup, so we put out a call for seal photos in the hope of spotting her. We had a brilliant public response, so many people showed concern for Box. Over the next fortnight, we had numerous sets of photos sent in of seals in St Ives Harbour, but all of these proved to be Box's companions – Wings and Clouds.
Finally, almost a month later, we got the photos we were all hoping for! Box was alive. She must have been lying low recovering from her ordeal well away from people. More recent photos have shown that months later, Box still has an open wound as the propeller nearly cut her tail off.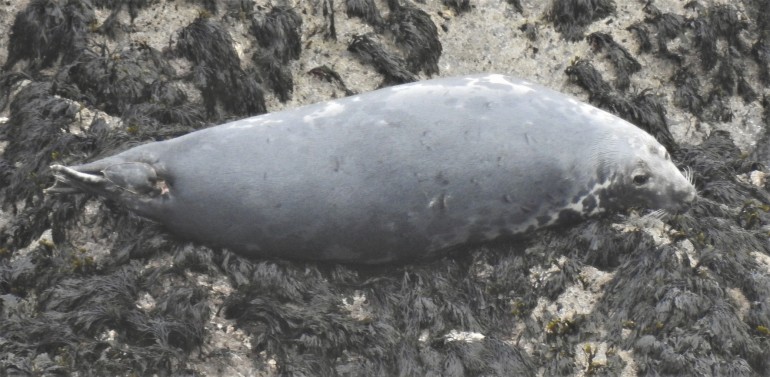 Box photographed by Lesley Williams well away from st Ives Harbour!
Box must not be allowed to have suffered in vain. We all need to  learn from her experience. So next time a seal looks longingly into your eyes clearly begging for food, be prepared to stay strong and practice tough love! Thank you for NOT feeding Box or any of her companions. Every seal that has been seen in a SW harbour has been injured as a result of interactions with people.
Huge thanks to Ellie Bearcroft for her fabulous 'Food for Thought' film and Catherine Hillier for he specially composed and produced music.