Sealy activities
At the beginning of this year, we were excited to work on making some sealy activities. Primarily for use at the National Trust's Lizard Watchpoint they will also be a great resource for our stalls and workshops.
Marion designed a few different games: Top trumps, 'Memory' and a 'Seal Photo ID Challenge' thanks to Alec and Enid Farr's fantastic photos of the seals at this site. And we were extremely lucky to have Emily (Pollitt) from Cornwall College Newquay creating a board game for children to play as well!!
Emily said:
Cornwall Seal Group Research Trust has inspired me for many years now. They do such wonderful and important work for such a small group of fabulous people! So naturally, when I had the opportunity to create educational materials for a charity, CSGRT came straight to mind! I strongly believe in getting kids back in touch with nature and love innovative ideas that get them enthusiastic about wildlife.
There's loads of evidence that children (and adults!) learn best through play, when they are enjoying themselves. So, what better way to communicate conservation than through a board game! The board game works like snakes and ladders – where 'threats' put the player back in the game, and 'help' actions push them forward.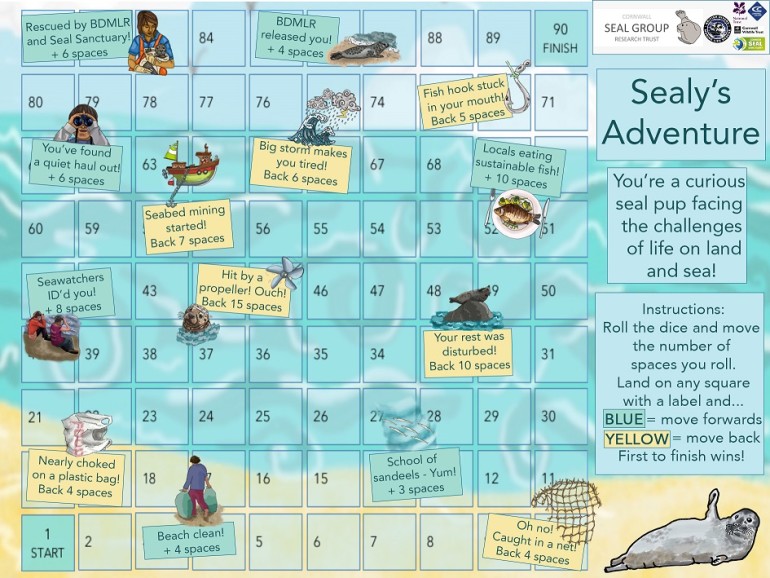 When communicating it's also important to emphasise the positives in conservation, (e.g. how people can help!), rather than just focus on the negatives. Hopefully the game can be enjoyed by all ages and help them to engage with and understand the fascinating lives of grey seals!
What we say:
Emily's eye-catching board game has been made a reality by generous funding from the Postcode Local Trust supported by the People's Postcode Lottery. It will be placed the National Trust's Watchpoint on the Lizard. Her illustrations are beautiful and the game will encourage people of all ages to learn more about life from a seal's perspective through play. Cleverly, the game is self-explanatory so needs no external support from the Watchpoint volunteers. To support the board game, Emily had produced an exquisite supporting leaflet covering each of the 'snakes and ladders' points in a little more detail. This is so beautiful that CSGRT have sourced funding from Natural England to get it printed for general use.
We are hugely grateful to Emily, who has been a wonderful supporter of CSGRT. Her game and leaflet are a lasting legacy of her involvement with our charity as she moves forward from completing her degree at Cornwall College. Good luck in the future Emily and THANK YOU!