Ways You Can Help
We would love to hear from you with your seal sightings! 
Email [email protected] about the seals you see around the southwest. Ideally with information including the number of seals seen in the sea or on land with a date and location. A photo will give us even more information.
Click here to hear what our iconic seals get up to every month in our Seals SW Newsletter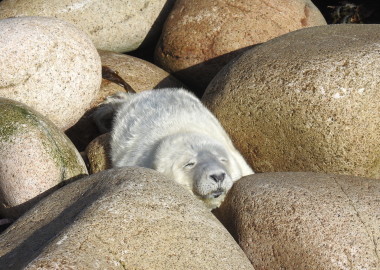 Join our team of routine surveyors by counting seals at your favourite seal site at least once a month every month. This builds up the seasonal pattern of seal habitat use which is vital information.
Help us with our campaign work to find solutions to the global issue of lost fishing gear, support fisheries that adopt seal friendly practices including no shoot policies, raise awareness about marine life disturbance and limit the impact of plastic, chemical, pharmaceutical and noise pollution on all marine life.
Send us a one off donation for an amount of your choice. Support our work and volunteers by setting up standing order to donate funds to our conservation efforts.
Look cool and show you care by wearing one of our beautiful and ethical t shirt designs, printed to order by our friends at Teemill. They make great gifts! Click here to order now.

We stock a range of seal related merchandise such as key rings and fridge magnets (£4): CSGRT coasters (£5), mugs (£8) and branded pens (£2): Seal secret book (£5): Marine colouring book (£5); Sea what a seal can do storybook (£8): soft furry seals (20cm £6; 30cm £12; 40cm £14): unique pottery seals (pups £9.50; adults £13.50; mum and pup £17) and framed A4 colour prints (£15). Click here to see our full range of merchandise to treat yourself or a loved one whilst supporting marine conservation.

All our money is spent to further our charitable aims of researching, communicating about and conserving seals. We are honoured to be supported by a huge number of volunteers who donate thousands of hours to the cause, but we try not to take these contributions and peoples' generosity and good will for granted. Not everything is free but we do aim to spend our money very carefully and wisely.
Please consider supporting us financially. Click here to make a much needed and appreciated donation. Click here to find out how this will help us!