Let's Save Seals Now
At the beginning of 2019 we were very fortunate to be one of Tesco's chosen charity for their Bags of Help scheme in Camborne. Thanks to shoppers and all of our volunteers' support, we won the biggest share (£4000) of the grant available for January/February.
This enabled us to run our "Let's Save Seals Now" project lead by our Amazement and Discovery Ranger (Marion Beaulieu) from June to November.

Over this period of time we ran lots of talks for community groups in the Camborne/Pool/Redruth area, workshop sessions for school and college students and we showcased Cornwall's speciality species – the grey seal – at  Cornwall College Summer Fun day at the Camborne campus. In addition, we have been able to create  more beautiful resources in the form of banners and booklets to accompany Septimus our real seal skeleton around the County.
Marion was invited to run a series of workshops for Year 7 to 10 students at Cornwall School of Mathematics and Science's NEXUS campus in Camborne as part of their Co-Curricular Programme.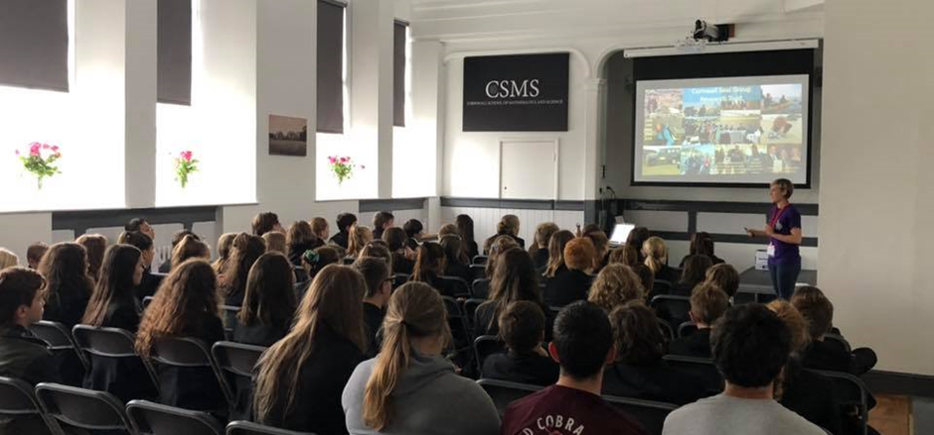 On 30th of September, she took 65 students through fascinating facts about our amazing grey seals, their anatomy, behaviour, life cycle and incredible journeys. Students had a virtual lesson in how to survey seals and identify them from their individually unique fur pattern. Everyone seemed to thoroughly enjoy it, being very attentive, asking great questions and working away in their handbooks during and after the lecture.
On 7th of October, Marion outlined the multiple threats faced by seals and how we can all do our bit to help the species and the precious environment they live in. Although the subject of this second lecture was a bit more difficult to take in emotionally, the students were interested and involved creating some wonderful and inspiring posters illustrating an issue of their choice.
On 25th of November Marion is going back, accompanied by Emily Pollitt our Creativity and Activity Ranger. They are very much looking forward to seeing the presentations created by students over the last few weeks. Marion and Emily  can't wait to introduce Septimus to such an enthusiastic, attentive and well-behaved audience!
Huge thanks to everyone who has supported our work with seals at all these events and particularly to those who voted for us in Tescos Camborne to make all these free events possible.