Septimus wins award
Septimus 'some seal' wins posthumous Innovation Award!
Even in death, Septimus lives on and his story is inspiring a whole new generation to care for our oceans.
Mevagissey Museum has just won the Innovation Award in the Cornwall Heritage Awards 2020 with the fabulous Septimus Exhibition and workshops.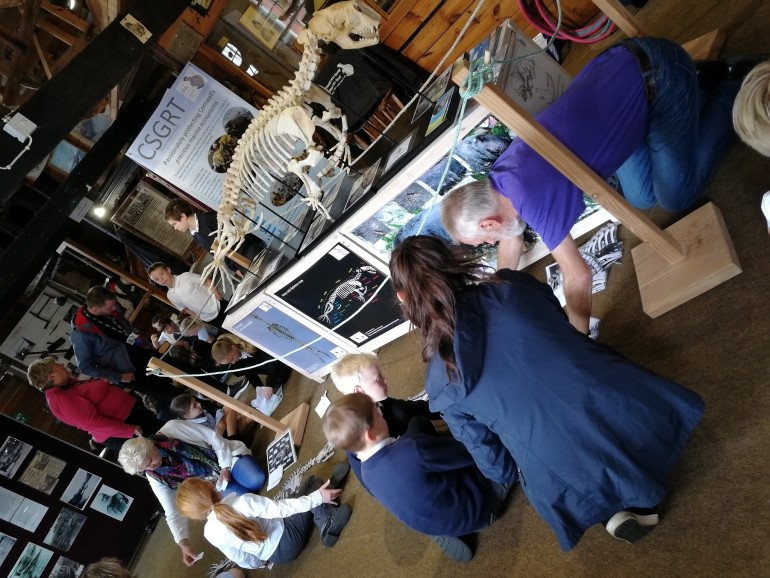 Cornwall Seal Group Research Trust (CSGRT) has developed an award-winning interactive exhibition to accompany Septimus on his travels. A series of hands-on activities have been designed by CSGRT's Director, Sue Sayer (previously an Advanced Skills Teacher) and produced by CSGRT's Creativity and Activity Ranger Emily Pollitt. These encourage deeper engagement with mammal anatomy, Septimus' story and marine conservation issues. Transferable thinking skills such as communication, sequencing, categorising, annotation, prioritisation and summarising are developed at the same time.
In partnership with Mevagissey Museum and Three Bays Wildlife Group, CSGRT and museum volunteers (coordinated by Joan Bishop) ran Septimus' exhibition with resources funded through the Wildlife Trusts' Your Shore Beach Rangers project.
This was so successful that the exhibition was nominated for a Cornwall Heritage Award by Jeremy Roberts (Vice Chair of Museum). Lockdown prevented Septimus' finder Rob Wells attending the award ceremony, which finally took place via Zoom on 21/10/20 where we discovered that Septimus' exhibition WON the INNOVATION AWARD.
Well done to everyone involved – great teamwork! Thank you!
CSGRT would like to thank our funding partners who made this exhibition possible, particularly the Heritage Lottery Fund.