A seal history first
For some of us, seals play a very big part of our lives. Adge Lane routinely surveys seals on his local patch in northwest Wales, keeping a watchful eye for issues and alerting others when something interesting has been seen. You just never know when a routine survey is going to turn out to be anything but!
Click here to listen to Sue Sayer's interview with Radio Cornwall about Adge's amazing discovery.
For Adge and the rest of us interested in seals, Saturday 20th February was one of those legendary days that will go down in seal history. Adge photographed a seal with a plastic rear flipper tag as he has done many times before. Flipper tagged seals are those lucky enough to have been rescued by British Divers Marine Life Rescue in their hour of need and rehabilitated at one of the UK's rehabilitation centres, many of which are run by the RSPCA. These hospitals are run by dedicated animal expert clinicians, nurses and vets who give these young seals their desperately needed second chance.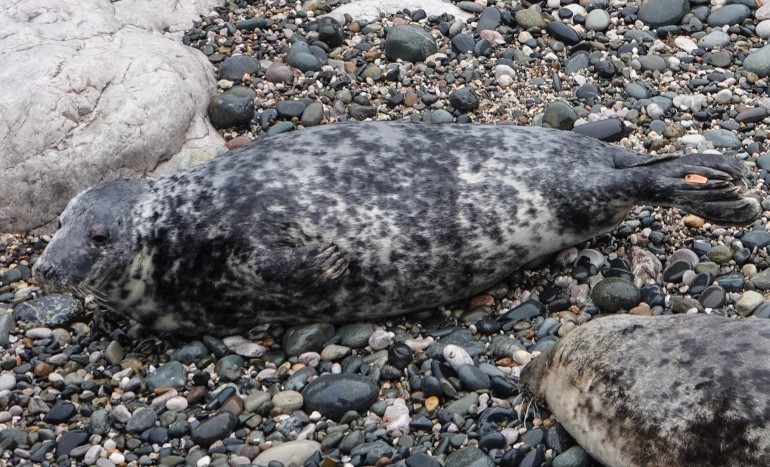 After release back into the wild, other charities and volunteers take over the role of watchful guardians such as Adge in northwest Wales. Unsure about the likely sanctuary that had cared for this tagged seal, he contacted Ellie West an RSPCA Inspector/Wildlife Officer, who alerted Sue Sayer from the Cornwall Seal Group Research Trust. An expert in wild seal photo ID research, Sue managed to confirm the tag number as 80212 and traced this back to another RSPCA wildlife hospital in West Hatch Somerset.
Paul Oaten, Wildlife Centre Supervisor, was able to confirm that this young female seal had actually been rescued as a starving pup from Newquay in Cornwall on 20/12/16. Named 'April' she had been treated and looked after at West Hatch until her release on 17/02/17 (almost exactly 4 years prior to Adge taking his photo). There had been one other sighting of April on 08/09/20 from the wardens on the Island of Skomer in Pembrokeshire. Since then, she has swum the entire coast of west Wales and finally hauled out to rest on the northwest tip. After this discovery, Sue realised that a tagged seal Adge had seen on 20/12/20 was also April at a site between Skomer and her current location.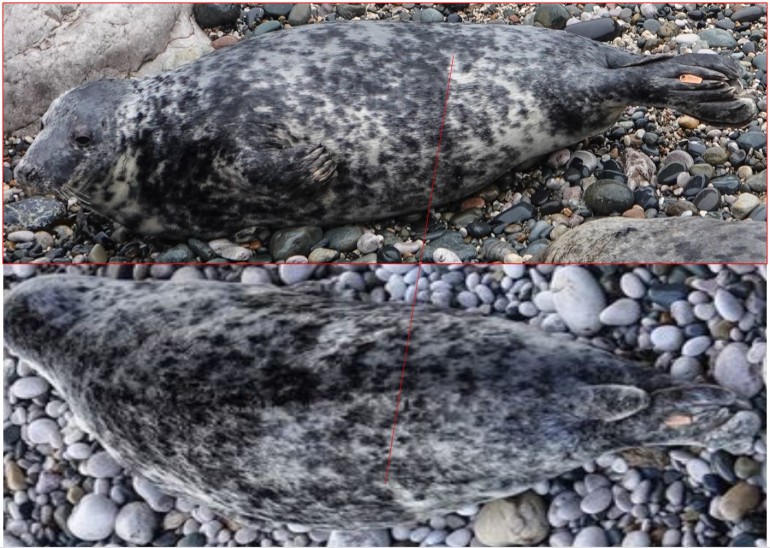 Stories like April's are wonderful for rehabilitation staff to hear as they validate and reward all their supremely hard work with these vulnerable animals when they most need it. Huge thanks to all the rescue, rehab and survey teams and organisations who have been part of this amazing young seal April's incredible story.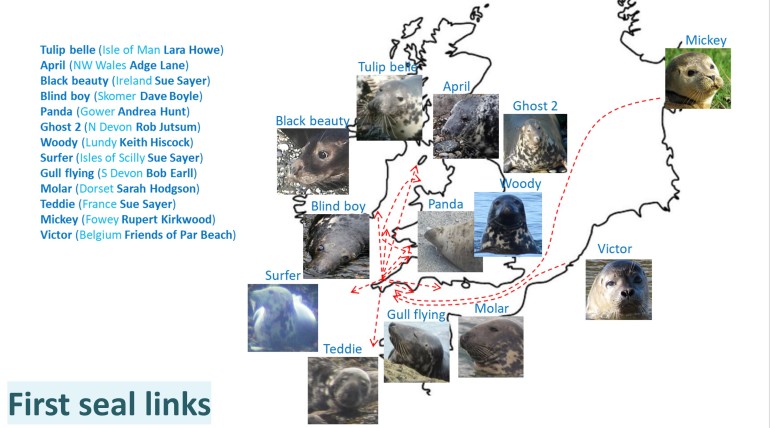 Our seals never cease to amaze us with their travels. Whilst April has complicated our map, we are delighted to add another jigsaw piece into the movement map of seals from the southwest of England that spans to the Isle of Man, Wales, Ireland, France, Belgium and Holland. Who knew southwest seals were so well travelled?
Massive thanks to Adge Lane who has been photographing seals at the northwest Wales sites for years, all the British Divers Marine Life Rescue volunteer Marine Mammal Medics, all RSPCA rehabilitation centre staff and volunteers and all CSGRT volunteer surveyors who have been photographing seals on their local patches – together we have enabled April's incredible story to continue to be told!
Special thanks too for a generous grant from DEFRA via the National Lottery Heritage Fund called the Green Recovery Challenge Fund that makes the coordination of this work possible