Sea Change: Seals
The Seal Research Trust (SRT) is renowned for its citizen science photo identification research. A key element of this work is our post release monitoring of rescued and rehabilitated seals released from a variety of centres. In 2021, SRT published a peer reviewed paper in Marine Mammal Science summarising our findings from an incredible 1094 different rehabilitated seals over a 19 year period. Of all of these tagged seals, the longest identified seal was tracked for 17 years – 'Lewis' who has swum repeatedly between north Devon and Looe in southeast Cornwall – a distance of 285km (straight line direct route around the coast)!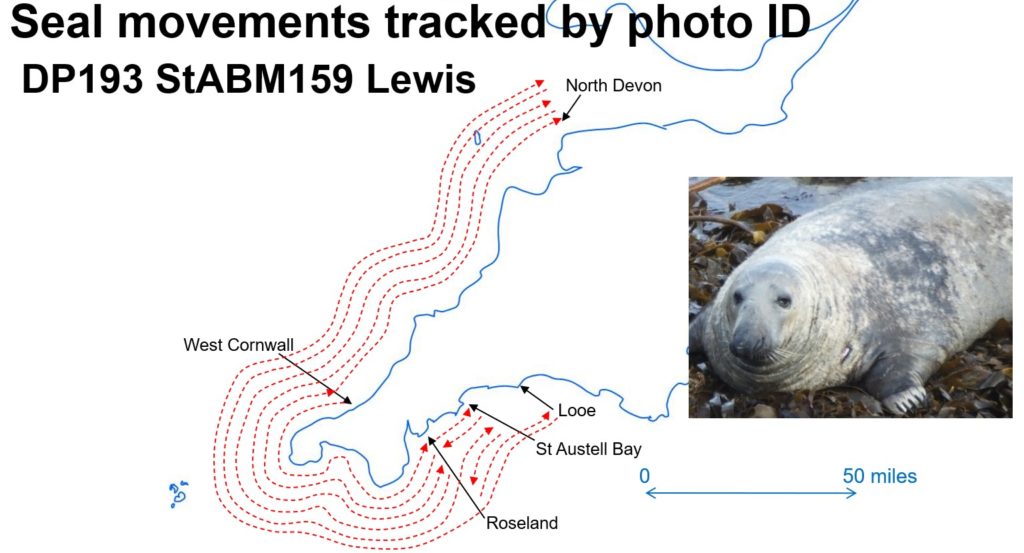 In 2022, funded by the Humane Society International, SRT volunteer Joyce Williams worked with SRT's core volunteer team to pull together the sightings data and trawl our photo archives to explore the ID histories of six seals rescued by British Divers Marine Life Rescue (BDMLR) and rehabilitated at the Cornish Seal Sanctuary.
Quick links: Case Studies of rescued seals; Film Climate Change and Rehab capacity; Film Climate Change and Public actions
With so many ex rehabilitated seals to choose from, our first challenge was to select the six celebrity seals to focus on. In the end, we went for two males and four females in the hope of covering the range of new science revealed by this research. Click here to access all our post release monitoring resources including the case-studies: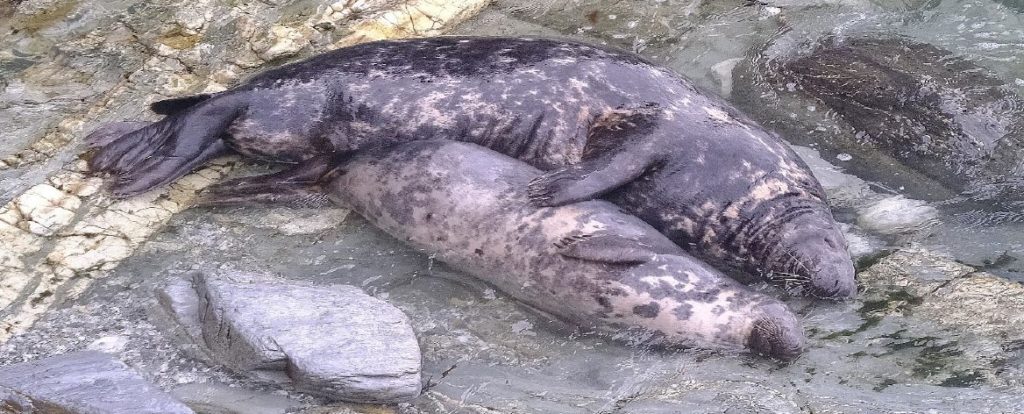 The case studies cover each seal's rescue, rehabilitation and post release monitoring stories, illustrated by genuine photos taken concurrently. Maps and ID calendars have been created to show each seal's movements between different sites and shows the huge volunteer team effort required to piece together these fascinating insights into the world of our native, heritage, speciality seal species. It is a true wonder and privilege to be able to live our lives alongside these incredible marine mammals with whom we share our shores. Above all, the case studies confirm what we showed in our paper, that rescue, rehabilitation and release back into the wild really does work and helps to counter the multiplicity of threats seals face back in the wild. Recent data shows that despite all our considerable team effort to help this enigmatic species in their hour of need, we still likely help fewer seals than the number that suffer or die of entanglement or bycatch across the UK each year.
Unfortunately, despite increasing casualties, the overall capacity for seal rehabilitation has fallen in recent years, meaning it is now difficult at busy times to find a wildlife hospital with suitable facilities and trained staff to take seals in. Sadly, some seals have to undergo a journey lasting hours to reach the nearest centre where they can be cared for. Others have to be euthanised.
Seals need us to creatively collaborate and fund new centres in critical areas such as Wales, Northumberland, East Anglia and north Scotland. We need to build a brighter future for seal rescue, rehabilitation and release to respond to the significant impacts that climate change is already having on our globally important UK seals.
We must find ways to increase future seal rehabilitation capacity to make sure that the conservation gains achieved since we stopped persecuting seals are not reversed. So, also funded thanks to the Humane Society International, SRT collaborated with BDMLR to create a brand new short film 'Sea Change: Seals' illustrating the effects of climate change on seals to show why we now all need to increase seal rehabilitation space across the UK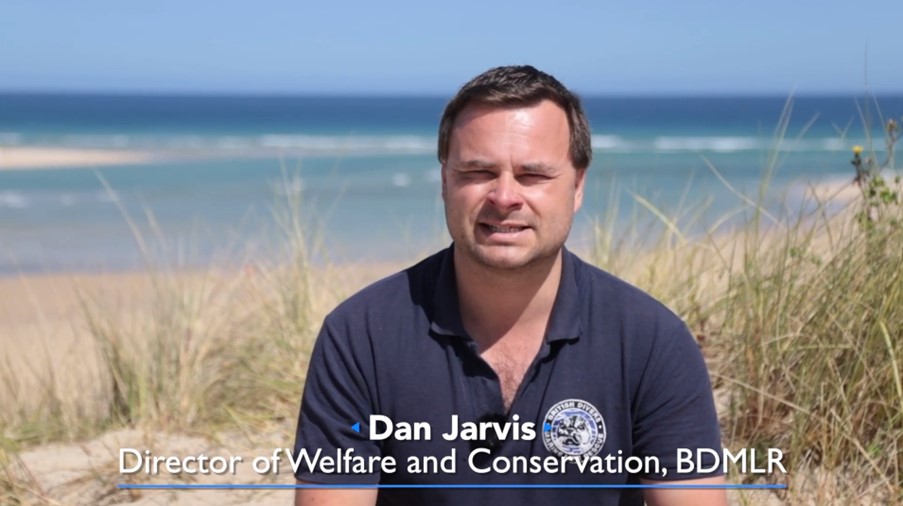 Huge thanks to Humane Society International for funding this work, to our amazing volunteer Barry Williams for combining and editing a huge range of footage, along with Polly Ford and George S Jones for filming SRT Director Sue Sayer MBE and BDMLR's Trustee and Director of Welfare and Conservation, Dan Jarvis and to our utterly dedicated volunteer network spanning the southwest UK. Without their routine surveys, we would have no incredible seal stories to tell.
To make our efforts as impactful as possible, we also edited a second version of our 'Sea Change: Seals' with a second half call to action for the rest of us, identifying the everyday actions we can all take to reduce our carbon emissions. To spread the call for public action further, we designed and printed a brand new 'Sea Change: Seals' leaflet. Download your copy here or order hard copies to distribute across your area by emailing [email protected].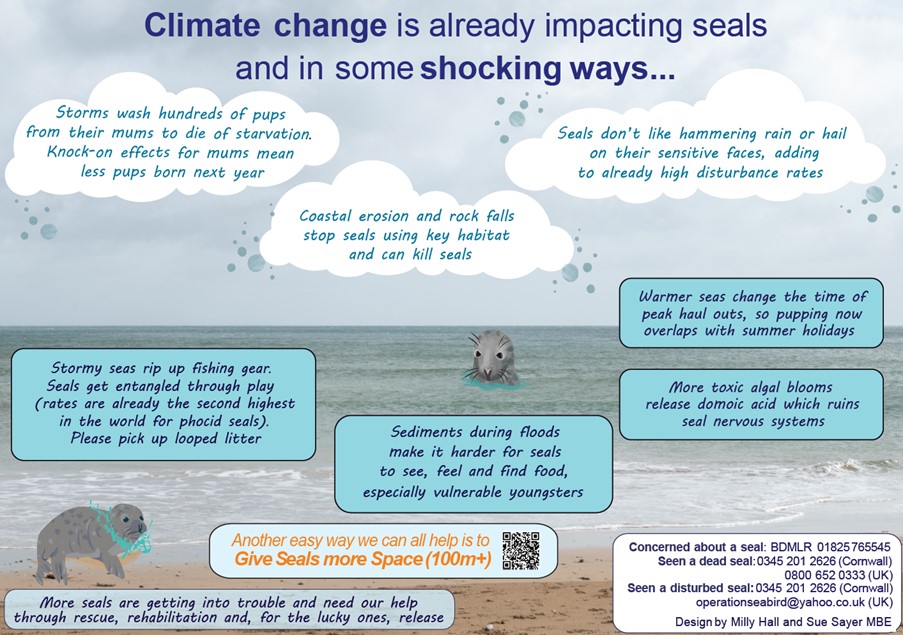 Now it is over to you…support our incredible, globally rare grey seals in 5 easy steps by: